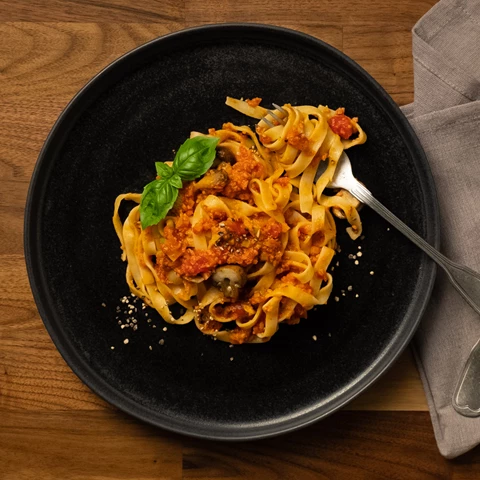 Spaghetti with Jamonilla® in Tomato Sauce
Ingredients
12 oz Tulip Jamonilla®
1 package Tagliatelle (spaghetti)
1 onion
3 cloves garlic
1 carrot
2 stalks celery
0,5 stick butter
4 roma tomatoes
1 package of fresh mushrooms
1 can chopped tomatoes
2 tbsp tomato paste
Salt
Freshly ground pepper
Basil leaves
Print recipe
Instructions
Food preparation 
Peel the carrot, skin onions, and garlic, and rinse the celery stalks. Pulse the vegetables in a food processor into smaller bits. 

 

Slice the tomatoes and mushrooms. 

 

Pulse the

Jamonilla

®

 in a food processor into small pieces.

 
Cook the pasta  
Bring a large pot of salted water to a boil. Add the pasta and cook until al dente. Look at the instructions on the package to decide the cooking time.

 
Make the sauce 
Melt the butter in a frying pan. Add the

Jamonilla

®

and sauté until golden brown.

 

Add the vegetables, sliced tomatoes and mushrooms, canned tomatoes, and tomato paste. Season with salt and pepper.

 

Bring to a low simmer and cook uncovered for about 15 minutes or until the tomato sauce thickens

.

 
Serving  
Serve hot with the pasta and garnish with basil leaves or other herbs.

 

Enjoy!

 
WATCH OUR COOKING VIDEO HERE:
Tip
Swaps and substitutions 
Tagliatelle has a porous and rough texture, which is ideal for recipes with thick sauces. However, you can swap out the Tagliatelle with other kinds of pasta such as penne, cannelloni, or cavatelli. The pork pasta recipe serves well with a side of fresh salad and bread.
How to cook pasta 
When cooking the perfect pasta, the goal is to get the pasta "al dente", which means the pasta has a nice firm bite without being crunchy. Follow these 5 steps to get perfectly cooked pasta: 
Fill pot with water:

Use a large pot and enough water to cover the pasta. Bring it to boiling.

 

Salt:

When the water is boiling you add salt. Salt is crucial when boiling pasta because it seasons the pasta evenly from inside out and gives a much tastier result. One saying is that your pasta water should be "as salty as the sea" but to make it more concrete you can go for 1-1½ tablespoon of salt for every pound of pasta. If you are cooking spaghetti or tagliatelle, you can also add a tablespoon of oil to the water to prevent the pasta from sticking. 

 

Cooking time:

Add the pasta to the salty boiling water and set a timer to make you sure don't overcook your pasta. Fresh pasta cooks in 3-4 minutes while dry pasta usually takes 7-10 minutes. You should always look at the instructions on the package to decide the right time.

 

Drain:

When the pasta is al dente drain the pasta in a colander over the sink. 

 

Serving tips:

Serve the pasta as soon as it has steamed off or toss it in a pan with your favorite sauce. If you save some of the pasta water, you can add it when mixing your pasta and sauce to get a perfect consistency.