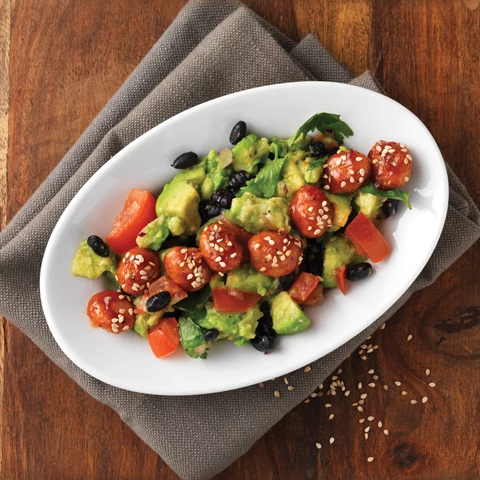 Avocado salad with oven-baked hoisin-marinated Tulip Quick Bites
Ingredients
4.4 oz Tulip Quick Bites
2 tbsp hoisin sauce
1 tbsp sesame seeds
2 ripe avocados
1 ripe tomato
4 tbsp cooked black beans
1 lemon
2 tsp ground cumin
3 cloves garlic
5 sprigs broadleaf parsley
Salt
Freshly ground pepper
Print recipe
Procedure
Drain the Tulip Quick Bites and toss with hoisin sauce. Sprinkle with sesame seeds and bake in a preheated oven for 10 minutes at 180°C / 350°F.
Coarsely chop the tomatoes and mince the garlic and parsley.
Split the avocados, pit them and scrape out the pulp with a spoon.
Coarsely mash the avocados with a whisk and stir together with the tomato, beans, lemon juice, cumin, garlic and parsley. Season with salt and freshly ground pepper.
Place on a platter or in a bowl and top with the hot Tulip Quick Bites. Serve right away.