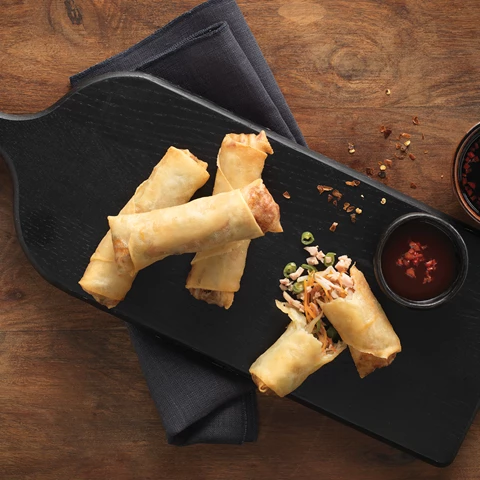 Spring rollwith Vegetables, Jamonilla® and Sweet & Sour sauce
Ingredients
7 oz Tulip Jamonilla®
2 cloves Garlic
1 Onion
4 tbsp Green beans
4 Carrots
1 cup Beansprouts
8 Spring roll wraps
Vegetable oil
Salt
Freshly ground pepper
Soy sauce
Sweet and sour sauce
Print recipe
Procedure
Chop the Tulip Jamonilla® finely, and the garlic and the onion roughly.
Warm some oil in a frying pan. Sauté the garlic and onions until soft. Add the finely chopped Tulip Jamonilla® and sauté until golden. Remove from the pan and cover.
Cut the carrots into strips and finely chop the green beans.
Add the chopped vegetables to the pan, adding more oil if required. Fry until soft and crisp, approx. 5 minutes. Then take the frying pan off the heat. Season with soy sauce.
When the mixture is cold, add beansprouts and mix with fried Tulip Jamonilla®, onion and garlic. Season with salt and pepper.
Carefully take a wrap out of the package and place on a flat surface. Cover the opened wraps with a moist cloth to prevent drying. Place 2-3 tablespoons of the filling close to the edge nearest to you. Roll the edge towards the middle. Fold in at both sides and continue to roll. Moisten the opposite edge with water to seal the joint and roll together. Place the rolls with the joint facing downwards.
Deep-fry the rolls in hot oil in a deep pan until golden. Drain on kitchen paper.
Serve the rolls with sweet and sour sauce and soy sauce.