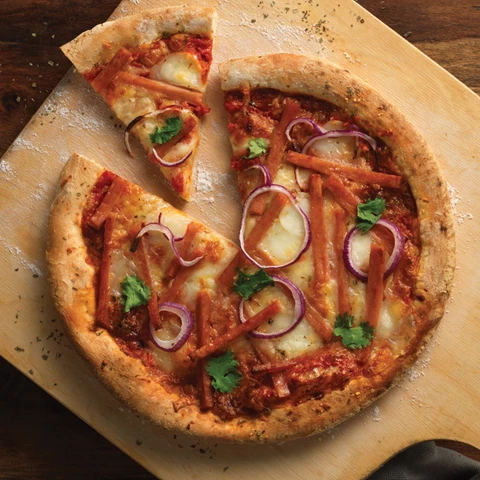 Pizza with Jamonilla®Homemade Pizza Dough
Ingredients
Dough for 2 pizzas
0,75 oz yeast
1,33 cup water
4 cups Italien flour type 00
1 tsp olive oil
Flour
Baking paper
Pizza topping
24 oz Tulip Jamonilla®
1 tbsp olive oil
0,5 cup tomato sauce
2 tbsp shredded gouda cheese
2 cups shredded mozzarella cheese
0,25 cup red onion(s)
1 tbsp fresh cilantro
Print recipe
Procedure
Pizza dough  
Stir the yeast into lukewarm water in a bowl. 

 

Sieve the flour into another large bowl and combine with salt. 

 

Make a hole in the middle of the flour, pour in the liquid yeast and the olive oil, and mix it together. 

 

Once the liquid is absorbed, knead the dough until smooth on a flour-sprinkled surface.

 

Let the dough rise in a warm place until it has doubled in size (approximately 1 to 3 hours).

 

Roll or stretch the dough into pizzas and let them rise in a warm place, covered with a damp cloth for 30 minutes.

 
Toppings 
Preheat the oven to 450 °F. 

 

Spread the tomato sauce evenly and generously on the pizza dough.

 

Sprinkle the two types of cheese over the sauce. Save some of the cheese for later.

 

Cut the

Jamonilla®

into strips and slice the red onion. Scatter evenly. 

 

Add the rest of the cheese on top.

 
Baking the pizza  
Cover a baking tray with baking paper.

 

Transfer to a baking tray, and bake in the oven for about 8-12 minutes, or until the crust is crisp and golden and the cheese at the center is bubbling.

 

Carefully remove the pizza from the oven and sprinkle freshly chopped herbs on the top. Slice and serve.

 

Enjoy! 

 
Tip
The trick to a perfect pizza is high temperatures. Make sure to preheat the oven and wait till it is hot enough before baking your pizza. If you leave the baking tray to heat inside the oven before transferring the raw pizza to it, the crust gets nice and crisp.  
Explore different pizza toppings 
Pizza is an easy go-to dinner that most people love. One of the great things about pizza is that you can use almost any kind of toppings to suit different tastes. However, often the simplest pizza is the best – and it is also better for baking.  
Make your own tomato sauce   
If you're not in a hurry and want to make the pizza extra delicious you can make this easy tomato sauce. For this recipe you will need:  
800 g chopped tomatoes 

 

1 tbsp olive oil 

 

2 chopped onions

 

2 crushed garlic cloves 

 

1 tbsp tomato purée 

 

1 tsp dried oregano 

 
Heat olive oil in a pan, add the onions and sauté over low heat. Add garlic and tomato purée. Cook for 5 minutes then add chopped tomatoes and oregano. Season with salt and pepper and let it simmer for 20 minutes. Let it cool down before use.