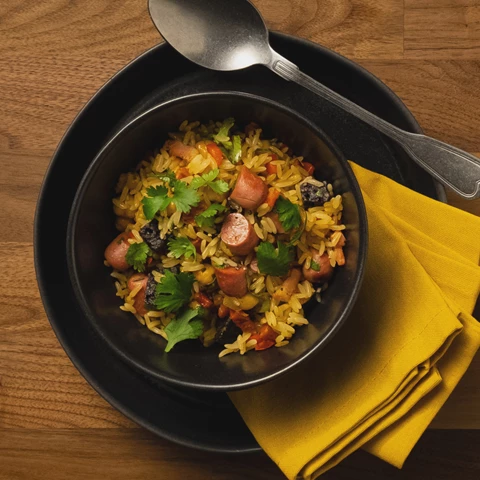 Sausage Fried Ricewith Cocktail Sausages, Bacon, Chorizo, and Blood Sausage
Ingredients
1 can Tulip Cocktail Sausages
2 bacon strips
1 oz chorizo
1 oz fried blood sausage
1 oz onion
1 oz pepper
1 tbsp Creole Sofrito
2 cups white rice
1 cup pigeon peas
0,5 tsp seasoning or paprika
Fresh cilantro
Print recipe
Instructions
If you do not have leftover rice: Cook the rice according to the instructions on the packaging. 

 

Halve the

cocktail sausages

.

 

Chop the bacon, chorizo, fried blood sausage, onion, and bell pepper.

 

Place a pan with a bit of oil over medium heat and fry the bacon and

cocktail sausages

until golden brown. 

 

Add the chorizo and fry for a couple of minutes before you add the Creole Sofrito. 

 

Introduce the onion and bell pepper to the heat and cook until softened. Then add the fried blood sausage.

 

Add the cooked rice to the pan and mix well with the rest of the ingredients.

 

Season with paprika, salt, and freshly ground pepper. Add the cilantro.

 

Add the pigeon peas and cook until thoroughly warm.   

 

Enjoy!
WATCH OUR COOKING VIDEO HERE:
Tip
Aim for similar-sized pieces when you chop the ingredients to make sure they cook evenly. 
Serving suggestion 
Serve with a dollop of sour cream and a side of salad as a fresh contrast to the salty and savory dish.  
Swaps and substitutions 
Instead of cilantro, you can use freshly chopped parsley. If you want more vegetables to go in the fried rice you can tomatoes, corn, and celery as a nice and fresh touch.
Dinner for busy weeknights 
Coming up with dinner ideas during a busy week can truly be challenging. Therefore, we have developed a series of easy weeknight dinners to add to your artillery of recipes. We use simple ingredients that you might already have in your pantry and convenient Tulip products to make preparation nice and easy.