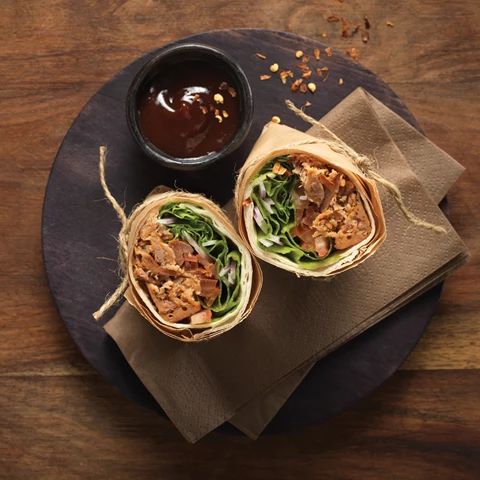 Pulled Pork Burritos
Ingredients
12 oz Tulip Pulled Pork
2 red onions
2 tomatoes
4 flour tortillas
Crisp lettuce
7 oz grated cheese
Canned sliced jalapeños
Print recipe
Instructions
Rinse the lettuce and julienne the onions and tomatoes.

 

Heat the

pulled pork

in a frying pan for 5 minutes while breaking it into pieces.

 

While the

pulled pork

is heating, warm the flour tortillas.

 

Place some lettuce on the tortilla. Top with the pulled pork, onion, tomato, jalapeños, and grated cheese. Roll the tortilla into a burrito making sure it is tightly closed.

 

Enjoy!
Tip
Serving suggestion 
Serve the pulled pork burritos with your favorite dip, salsa, or guacamole, and a side of crispy nachos.
You can eat burritos any time of the day and simply adjust a bit on the filling. If you are making breakfast burritos you might want to add some scrambled eggs and tune down the heat. The rolled-up goodies are also easy to bring with you to work or to school.
Swaps and substitutions 
You can adapt the recipe as per your liking. If you want more vegetables to go in your burritos add avocado, corn, or bell pepper. You can also bulk up your burritos with either black beans or rice. 
Combine the pulled pork with a smokey barbeque sauce to give the burritos some extra flavor. Balance the salty and spicy flavors with some fragrant cilantro and zesty lime juice.