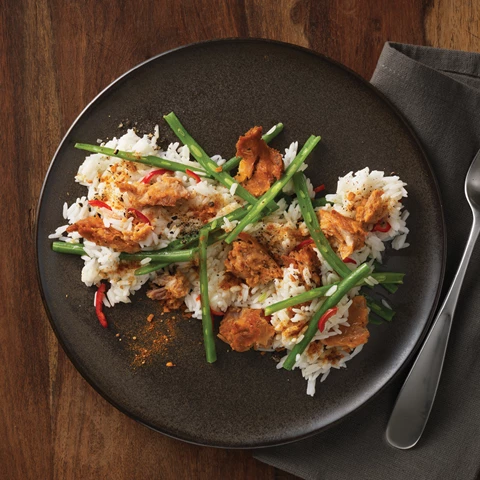 Rice with Pulled Pork
Ingredients
12 oz Tulip Pulled Pork
3.5 oz rice
0.75 cup rater
Pinch of salt
Oil
2 onions, chopped
4 cloves garlic, finely minced
2 red chilies, chopped
7 oz green beans, chopped
Salt
Pepper
1 cup sweet corn
Print recipe
Instructions
Place the rice and water in a pot and bring to a boil. Add a pinch of salt and lower the heat. Simmer for 10 minutes. Remove from the heat and set aside for 10 minutes. Keep covered.
Heat the Pulled Pork in a frying pan with a little oil for 5 minutes and break into pieces. Add the chopped onion and minced garlic. Fry until the onion is transparent.
Put in the chopped chilis and green beans, salt and pepper. Add a little water. Cover and simmer for 5–10 minutes.
Add the boiled rice and sweet corn. Heat through.