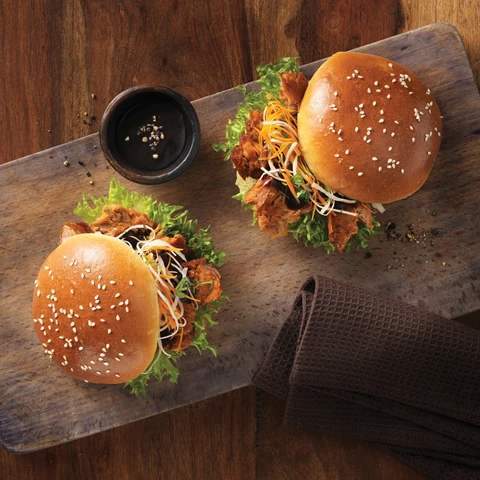 Pulled Pork Burgerwith BBQ Sauce and Fresh Greens
Procedure
Shred the carrots and white cabbage finely and combine the two ingredients in a bowl.

 

Peel the lettuce leaves. 

 

Place a pan over medium-high heat and add a bit of oil. 

 

Toss in the pulled pork and break it into pieces. Fry for about 5 minutes and remove the meat from the pan. 

 

Divide buns in half and fry in the remaining oil until they are golden brown.

 

Place lettuce leaves on the bottom bun. Add a handful of pulled pork and the carrot/cabbage mixture to taste. Top with BBQ sauce and cover the burger with the other half of the bun.

 

Enjoy!
Tip
Serving suggestions  
To make the pulled pork burger even more greasy, add mayo, mustard, or your favorite burger sauce to the bottom half of the bun. Serve the pulled pork burger with homemade French fries and a tasty dip as a delicious salty side. 
Pulled pork burger with coleslaw 
Homemade coleslaw goes perfectly in a pulled pork burger. The mayonnaise makes it creamy, but the cabbage and carrot stay fresh with a hint of lemon juice.  
To make a coleslaw you need: 
½ cup of mayonnaise 
2 tbsp white sugar 
1½ tbsp lemon juice 
1 tbsp of vinegar 
½ tbsp ground black pepper 
¼ tsp salt  
¼ white cabbage 
3 carrots 
Mix all the ingredients in a bowl. Add the shredded carrots and cabbage and mix them with the dressing. Season with more lemon, salt, or pepper as desired. 
You can use coleslaw in any kind of burger, as a side dish for barbeque, or in a burrito.