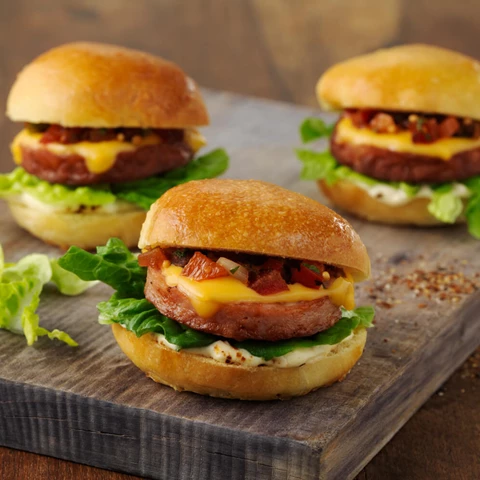 Sliders with Tulip Jamonilla Fresca
Ingredients
340 g/12 oz Tulip Jamonilla Fresca
6 small slices of cheddar
6 sliders (small burger buns)
3 dl mayonnaise
3 tsp. smoked paprika
6 leaves crispy salad
2 large tomatoes
1 red onion
1 tsp. parsley
1 tsp. coarse mustard
1 tsp. chili
Oil
Salt
Freshly ground pepper
Print recipe
Procedure
Cut tomatoes into small cubes and finely chop red onion, parsley and chilli.
Stir together the small tomatoes with finely chopped red onion, parsley, mustard and chopped chilli to make a coarse salsa. Season with salt and pepper.
Cut the Tulip Jamonilla Fresca into slices and roast them in oil on a hot pan until nice and golden. Sprinkle cheddar on the Tulip Jamonilla Fresca slices while they are still warm, and let the cheese melt
Divide and heat the sliders on a pan with the cutting surface facing downwards until crisp and warm
Stir in mayonnaise with smoked paprika
Butter the bottom part of the bun with mayonnaise and assemble the sliders with lettuce, Tulip Jamonilla Fresca with cheddar, coarse salsa and top bun, and the slider is now ready to be served.