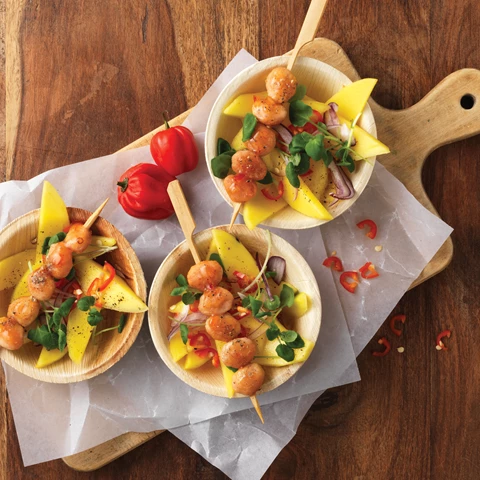 Tulip Quick Bites on mango salad with watercress
Ingredients
4.4 oz Tulip Quick Bites
1 oz sweet and sour chili sauce
1 ripe mango
1 red onion
1 red chili pepper
1.8 oz freshly grated ginger
2 oz mushroom soy sauce or ordinary soy sauce
1 bunch watercress
Salt
Freshly ground pepper
Wooden skewers
Print recipe
Procedure
Drain the Tulip Quick Bites and put the pieces of meat on skewers. Then baste with chili sauce and bake in a preheated oven for 10 minutes at 180°C / 350°F.
Peel the mango, remove the pit and slice the fruit pulp in wedges.
Thinly slice the red onion and chili and grate the ginger.
Rinse and drain the watercress.
Combine the red onion, chili and freshly grated ginger with the mushroom soy sauce.
Toss the mango in the marinade and season with salt and freshly ground pepper.
Serve the salad with hot skewers and garnish with watercress.