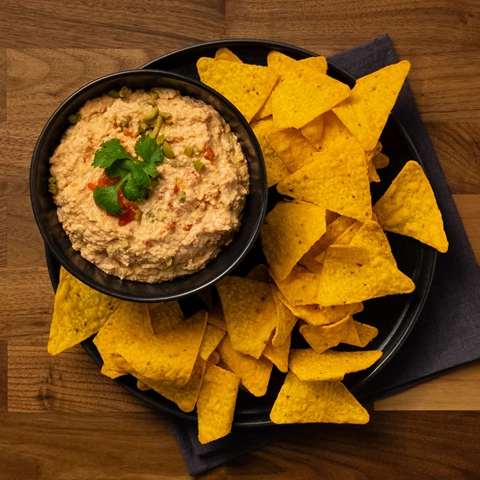 Cuban Style Jamonilla® Dip
Ingredients
12 oz Tulip Jamonilla®
8 oz cream cheese
1 can of red peppers
0.25 cups green olives
1 tbsp sweet pickle relish
2 tbsp mayonnaise
Print recipe
Instructions
Combine all the ingredients in a food processor. 

 

Blend until you have a smooth, creamy mixture.

 

Transfer to a smaller bowl and refrigerate until use. Serve with tortilla chips or sliced bread.

 

Enjoy! 
Swaps and substitutions  
Who doesn't like dips with melted cheese? Try making this dip in the oven.  
Instead of blending the dip, dice the Jamonilla® into small pieces and add the rest of the ingredients from the recipe and 1 cup of shredded cheese. Place the dip in an ovenproof dish and bake it in a preheated oven at 350 °F for about 15 minutes or until the cheese is bubbly. Serve hot with a topping of fresh herbs such as cilantro or parsley. 
WATCH OUR COOKING VIDEO HERE: