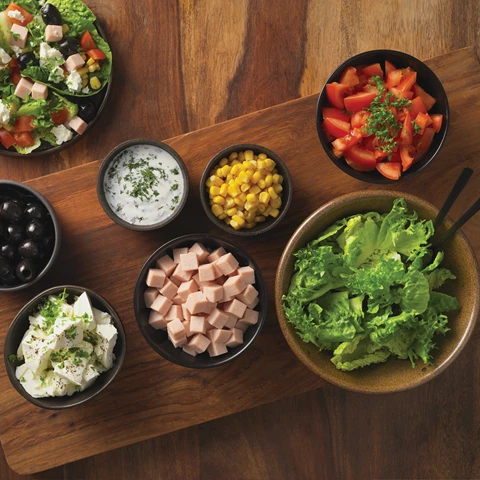 Tulip Salad
Ingredients
12 oz Tulip Chicken Luncheon Meat
4 Tomato
1 can Black olives
1 can Corn
0.5 cup Grated yellow cheese
Crisp green lettuce
Vinaigrette
1 cup Mayonnaise
1 cup Plain yogurt
2 tbsp Dill
6 tbsp Lemon juice
4 tbsp Olive oil
2 cloves Garlic
Salt
Freshly ground pepper
Print recipe
Procedure
Combine the mayonnaise, yogurt, dill, lemon juice, olive oil and garlic in a blender and blend into a vinaigrette. Refrigerate until ready to serve.
Wash and chop the lettuce.
Chop the Tulip Jamonada de Pollo and tomatoes into cubes. Slice the black olives.
Place the lettuce in the bottom of a serving dish as a base and add the Jamonada de Pollo, tomatoes, olives, corn and cheese.
Serve well chilled with the dressing.