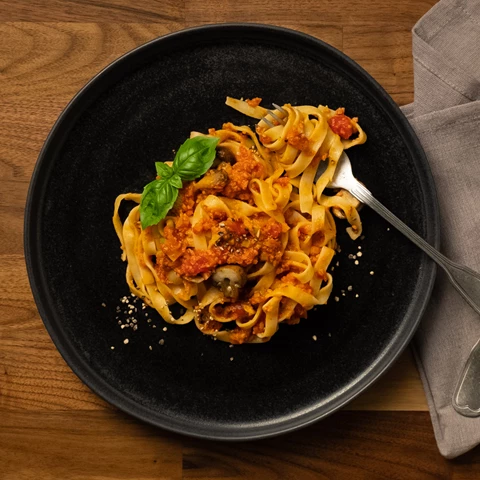 Tagliatelle with Jamonilla® in Tomato Sauce
Ingredients
12 oz Tulip Jamonilla®
1 package Tagliatelle
1 Onion
3 cloves Garlic
1 Carrots
2 stalks Celery
0.5 stick Butter
4 Roma tomatoes
1 package Fresh mushrooms
1 can Chopped tomatoes
2 tbsp Tomato paste
Salt
Freshly ground pepper
Basil leaves
Print recipe
Procedure
Cook the pasta according to the instructions on the package until al dente.
Pulse the Tulip Jamonilla® in a food processor until you have very small pieces.
Pulse the onion, garlic, carrot and celery.
Melt the butter in a frying pan. Add the Tulip Jamonilla® and sauté until golden brown.
Add the vegetables, Roma tomatoes (chopped), mushrooms, canned tomatoes and tomato paste. Season with salt and pepper.
Cook for about 15 minutes. Serve hot with the pasta.
Garnish with basil leaves or other herbs.
WATCH OUR COOKING VIDEO HERE: