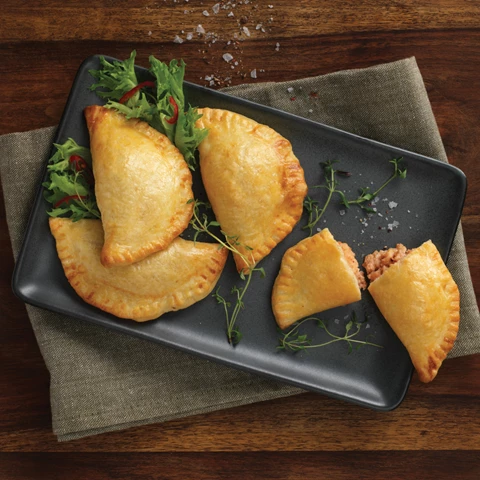 Empanaditas with Tulip Jamonilla®
Ingredients
4 oz Tulip Jamonilla®
½ cup guava paste
½ cup fresh cheese
4 tortillas or make your own dough
DOUGH
3 cups flour
½ tsp. salt
6 oz unsalted butter
1 egg
½ cup water/milk
Print recipe
Procedure
Start with preparing the dough: Mix the flour and salt. Add the butter
Add the egg and the water / milk a little at a time until a clumpy dough forms using your hands to mix the ingredients together. Use ¼-½ cup of liquid, until the dough is soft and smooth.
Split the dough into 2 and put in the refrigerator
Mash together the Tulip Jamonilla®, guava paste and fresh cheese.
Roll out the dough into a thin sheet and cut out round disc shapes for empanadas (use round molds or a small plate).
Place a spoonful of the filling on the middle of each empanada disc.
Fold the disc and seal the edges by pressing the dough with your fingers or using a fork.
Refrigerate the empanadas for at least 30 minutes for the best result
Bake the empanadas in a pre-heated oven at 375-400 °F for approx. 18-25 minutes. Alternatively, brown in a frying pan over medium heat for 3 minutes. The empanadas are ready once golden.
Tip
We recommend using 8-inch soft taco tortillas.
Use dough immediately, or store in the refrigerator/freezer to use later.